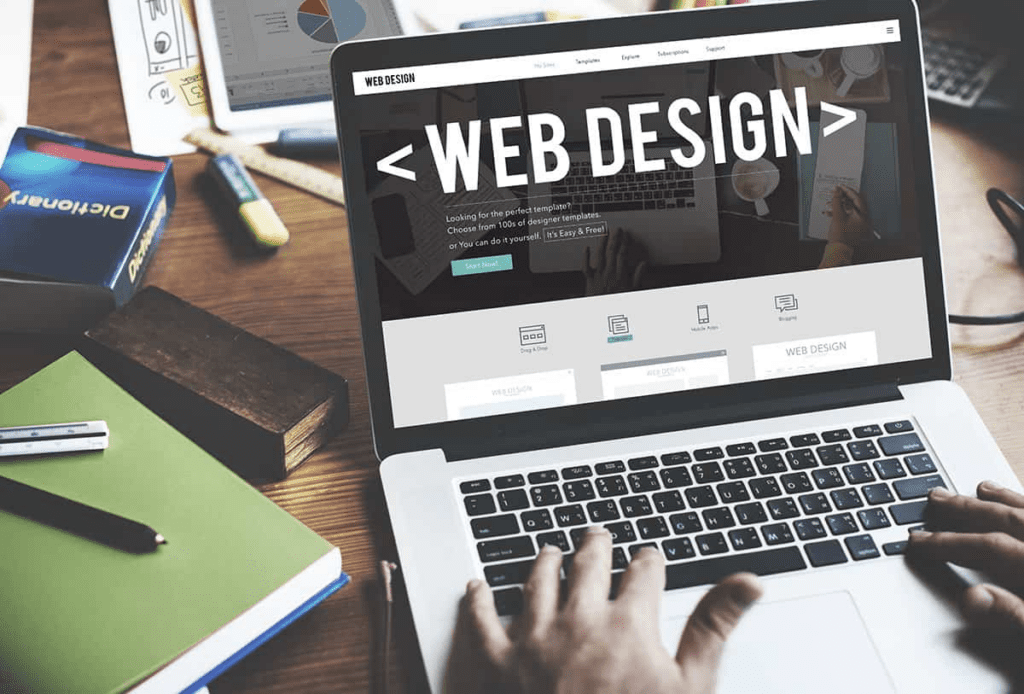 The success of any business website depends on its website design. Just by looking at your website, visitors can trust, authority, security, and more. You risk losing important visitors and potential clients if your website loads slowly, is difficult to navigate, or is difficult to read.
Consumers of today don't waste time on subpar websites. With so much information available and new websites appearing daily, if your website isn't up to par, your visitors are only a few clicks away from your rivals.
Web designers have the difficult task of fusing attractive looks with practicality and authority, all while facilitating users' quick access to the information they need.
The website design should be simple to use, with menu items easily accessible from any page. The viewer should always know where they are on the website and should have easy access to where they want to go. A site map is a fantastic idea that will be implemented if one is available. This may seem obvious, but most websites could be improved in this area. Remember that there is a thin line between an interactive menu and one that is annoying, so functionality should be the goal.
Your website's navigation is more important than you may realize. Having an intuitive and easy-to-navigate website will make your users happy, and while it may not be the reason visitors return, it can be ruled out as a reason NOT to return. A simple, well-developed and intentional site map will go a long way. Sites that require too many clicks or page links will irritate your visitor. Get them to their destination quickly and easily.
Another important aspect of the website's design is navigation via effective and responsive menus. If users are unable to access the desired content, they will quickly become frustrated. Menus are typically found at the top or bottom of the page, but there are numerous options to consider. Finally, clarity is essential.
A visually appealing website that is consistent with the brand does not have to be expensive, and website maintenance companies can make ongoing management simple.
This is the foundation of your website. Not only does your content influence search engine placement, but it is also the reason most visitors come to your website in the first place. The text on your website should be informative, easy to read, and concise. Web content and copy that has been well thought out will do more than anything else to make your website design engaging, effective, and popular.
There is no doubt that 'Content is King.' It is one of the primary reasons people visit your website and plays a significant role in Search Engine Optimization (SEO).
To make your website 'stickier,' you should put in a lot of effort to create first-rate content, which should include videos, relevant news/information, and high-resolution imagery. This will ensure that your users stay on your website for a longer period of time.
More transactions take happen on mobile devices than on traditional PCs and laptops in today's mobile-centric world. An audience is more likely to stay on your website for longer if it is responsive, and the longer they stay, the more likely it is that they will conduct business with you.
It cannot be emphasized enough how crucial it is to have a website that is responsive to mobile devices; 57% of internet users said they wouldn't even recommend a company with a mobile website that is poorly built.
Anything that connects to the internet, including tablets, needs to be taken into account; responsiveness is not limited to smartphones and computers.
A website that isn't mobile-friendly is already behind in this world where mobile usage is on the rise. With no indications of slowing down, mobile traffic has surpassed desktop traffic.
Your website should function equally well across all platforms. Despite the fact that the majority of WordPress templates are mobile-friendly, a custom design will need to be either on a responsive template that can adjust to different screen sizes or on a mobile-only site that is utilized whenever a user who is not a desktop user views your site.
SEO (search engine optimization) is crucial for any company looking to succeed online, but far too frequently, companies wait until their website is already designed to take SEO into account. Your pages must be properly optimized to be competitive given the hundreds of thousands of websites already in use.
An SEO-friendly website is created with the goal of making it simple for search engines to navigate the site, read content, and learn more about how to rank your website.
You must conduct keyword research to determine what your audiences are looking for in order to develop strong SEO. To select relevant keywords, you can utilize analytical software, speak with a web development business, or browse the websites of competitors. Make careful to incorporate your keyword expertise into the website's content and metadata. It is critical to keep in mind that Google's SEO algorithm is always evolving. Keep up with the updates if you want your website to remain relevant.
The appearance of your website is one of its most important and noticeable elements. Your company should be presented professionally and should appeal to your target market. Users will be drawn to designs with current trends and useful functionality.
A design that can endure (or readily develop) for years to come will secure your investment from the outset because technology and design trends are ever-evolving. A poorly thought-out website will quickly become outdated, necessitating far more frequent updates than you had originally planned. Your website's design should complement and represent your brand. The combination of colors, typography, images, and photos must result in a unified design that ages well.
Similar to choosing color palettes, typography for your website should take industry and branding into account. Your choice of font will assist in getting your point through to your audience.
The correct amount of professionalism and freshness must be achieved. Find something a little unique to set your site apart from others, whether you use a serif or sans serif font.
Both on a laptop and a mobile device, it should be simple to read. This often signifies at least 16 pixels. To distinguish headers and accents, you can also use a complementing font. However, don't go overboard with the sizing changes or the body text will seem cluttered.
Last but not least, employ a color scheme that contrasts your backdrop and content by combining light and dark tones and avoid combining two very bright colors.
CONCLUSION
Website needs time and work to be established that is effective and well-managed. Before you can develop features that appeal to potential clients, you will need to work on it continuously for a time, making improvements.